I like to have flowers delivered to the wife at work at least once every couple of months. You know, like a good husband should. For several years I used 1800Flowers to deliver them, just because it was the only name I knew. The problem with their flowers is that they look great … for one day. By day two they are wilting and dying. This isn't what one expects with the ridiculous price you pay to have flowers sent to someone at work.
On a whim, I tried FTD flowers one Valentine's day, and the difference in quality was drastic. The arrangement was more lush, the price was a bit lower, but the best part was that the flowers lasted a full week before they began to wither. I had been using them ever since. You'll note I said had been using them. That all changed when I bought flowers for her on August 31st.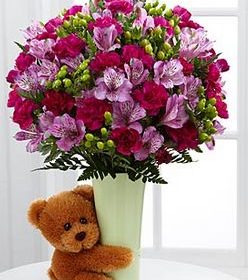 I ordered this beautiful arrangement for her, which I think we can all agree is a beautiful bouquet that any woman would be excited to receive. A cute little bear and a lush arrangement which is purported to be 17 inches high and 13 inches wide. I always pay extra to upgrade them to the best possible version. In this case, it was the 'exquisite' version of the bouquet which appears to have around two dozen blooms, with Peruvian Lilies and Mini Carnations making up the majority of the beautiful pink and purple color scheme. I placed my order, gave myself a huge pat on the back, and waited for the wife to text me how much she loved them.
Which she did… But the bouquet was nothing like pictured. Continue reading FTD flowers fail→