I like to have flowers delivered to the wife at work at least once every couple of months. You know, like a good husband should. For several years I used 1800Flowers to deliver them, just because it was the only name I knew. The problem with their flowers is that they look great … for one day. By day two they are wilting and dying. This isn't what one expects with the ridiculous price you pay to have flowers sent to someone at work.
On a whim, I tried FTD flowers one Valentine's day, and the difference in quality was drastic. The arrangement was more lush, the price was a bit lower, but the best part was that the flowers lasted a full week before they began to wither. I had been using them ever since. You'll note I said had been using them. That all changed when I bought flowers for her on August 31st.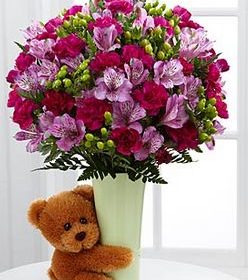 I ordered this beautiful arrangement for her, which I think we can all agree is a beautiful bouquet that any woman would be excited to receive. A cute little bear and a lush arrangement which is purported to be 17 inches high and 13 inches wide. I always pay extra to upgrade them to the best possible version. In this case, it was the 'exquisite' version of the bouquet which appears to have around two dozen blooms, with Peruvian Lilies and Mini Carnations making up the majority of the beautiful pink and purple color scheme. I placed my order, gave myself a huge pat on the back, and waited for the wife to text me how much she loved them.
Which she did… But the bouquet was nothing like pictured.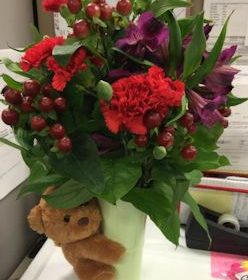 Here is the photo she sent me when she sent her thank you text. I've never sent her a bouquet that looked quite as good as the promotional image, but Jesus Christ. This looks like something a drunken Homer Simpson threw together by pulling weeds out of his yard on the way to the door when he realizes that he forgot his anniversary. There are maybe six or eight flowers in there, along with dozens of bizarre purple things that look like grapes but are hard as a rock. The Fern from the promotional image has been replaced by leaf lettuce, and the 13 inch width they touted is more like 8. The only things they got right were the vase and bear. I have never been more disappointed with an online transaction in my life -and I once sent money to a Nigerian Prince!
While I hated to take down the veil, I immediately responded to the wife's Facebook post to try to find the name of the florist that put the arrangement together so I could formally complain. It turns out the wife did that for me. The florist (who I won't name, but probably should) was very apologetic and delivered her a replacement bouquet the next day. A replacement bouquet that looked worse than the first one.
At that point I'd had enough. I contacted FTD through their online contact form to request a refund. I've never had reason to do this in the past, and it's a good thing for them that I didn't. They never replied to my request. I included my order number and photos of the horrible quality of delivered goods, but they didn't care enough to even send a boilerplate response. Needless to say, this pissed me off.
After three days, I finally called their customer service. After being ignored for three days, I was willing to accept nothing short of a full refund. The first representative offered to refund the cost if I returned the bouquet to the florist. I responded that they were welcome to pick it up at my house but since it had been several days since the shoddy crap had been delivered, my wife no longer had it on display at work. She said that was not acceptable and offered me a 10% discount on my next order. Clearly this woman wasn't getting it. I told her that if I got anything less than a full refund I would dispute the charge on my credit card statement as fraud -that wasn't an empty threat. If you look at the two images I truly believe the misrepresentation of the product was indeed fraud.
This got me to customer service rep number two -a 'supervisor'. This 'supervisor' suggested that she could get me a 50% credit on my next order. Again, completely misunderstanding that after being ignored for three days and having to talk to now two people to get a refund, there was no earthly way I would do business with them again. She also suggested that if I had the wife take the bouquet back to work for the florist to pick up they would issue me a refund. I again explained that if they had responded to me three days before that wouldn't be a problem, but this was their fault in every way and I was not going to jump through any hoops to remedy their mistake. She said that was the best she could do. I finished this conversation by saying exactly the following: "You know what? I don't even care about the money anymore. I'm going to post this on my website and do my best to make sure everyone knows how horrible the customer service at FTD flowers is." At which point I hung up on her.
About twenty minutes later I got a call from an unknown number on my cell phone. I answered it to find that it was yet another 'supervisor' for FTD flowers. This 'supervisor' said she would make a one time exception in my case and issue me a full refund. I explained to the woman that I no longer wanted a refund. It was my every intention to drag their name through the mud as much as I possibly could based on the atrocious quality of the product and absolute incompetence of their customer service. This 'supervisor' was insistent that she would issue the refund anyway. I told her to do whatever she wanted, but I would never do business with them again anyway.
She did refund me the cost of the flowers. So, six days after the horrible bouquet was delivered, three days after being completely ignored by customer service, and after thirty minutes of arguing with three different customer service reps, FTD flowers finally did make it right. If that's the kind of service you're looking for in the flower delivery game, by all means, buy from FTD flowers. If it's not, I've discovered there are a ton of other services out there Pro Flowers, FromYouFlowers, and SendFlowers.com to name a few. I haven't dealt with any of their customer service reps, but it's difficult to believe they will be any worse than FTD.